Free plug in energy monitor when you switch dual fuel to a new supplier
Free plug in energy monitor
Sorry, this offer is now closed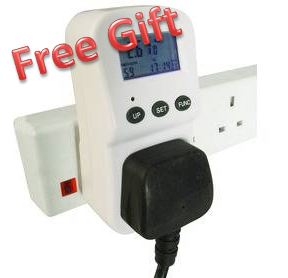 There is more to saving electricity than just switching your energy supplier! because we prefer to help you understand how much electricity your kettle, washing machine, TV, and other electrical products use in your home. On occasions, we have some of these plug in energy monitors to give away to our website users.
Tell me more, I would like to have one of these!
Monitor energy consumption from any appliance plugged into a socket
Great for seeing how much power your appliances are consuming
Can display the cost of electricity and power used
Large LCD display
Set up in less than 2 minutes
Up to 9 different types of data displayed
Memory function
Maximum current 13A / maximum power 3120W
By simply entering the unit cost of your electricity and plugging an appliance or extension lead into the power monitor, the LCD screen enables you to easily see the cost of the plugged in appliances. It allows you to see useful data such as: cost generated by a socket, tariff, power factor, kilowatt hours used (as found on your electricity bill), active watts consumed, apparent power, voltage from the socket, amps used and frequency of the electricity (mains power is normally 50Hz).
Great, how do I get one?
Simple, just join our Energy awareness campaign, then we will send out your free energy monitor when you switch your energy supplier!