Getting the best deals for your gas and electricity
In our quest to find out why consumers are not getting the best energy deals, we asked this question on Facebook:
£4 Billion in discounted energy deals went unclaimed last year. Do you know how to get your discount?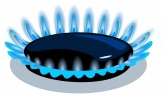 I must admit, I wasn't that surprised at the resulting answers. It was a simple case of answering yes or no. Around 17% answered yes. This ties in with the amount of consumers who are actually getting discounted energy deals. It would appear, the remaining 83% just don't know how to go about it.
§
This is how you get the discounted energy deals
Take some time to understand your energy usage, and know which tariff you are currently on!
Okay, so it already sounds complicated – Your energy usage is measured in KWH (kilowatt hours) You pay so many pence per KWH. This is probably the most important thing about your energy you should understand. Your energy supplier sends you a statement each year, this shows how many KWH you consumed the previous year, and shows how much it will cost if you use the same amount of energy over the next year.
It's not much different to asking how many KG of sugar you consumed last year. You probably wouldn't know the answer to that, and your supermarket won't be sending you a statement which tells you how much sugar you consumed.
But, if you had the option of paying 40 pence per KG of sugar, or 50 pence per KG of sugar, you would probably go for the 40 pence option. Makes sense doesn't it!
§
Electricity prices
Typical standard electricity price = 12.235 pence per KWH
Discounted electricity price = 10.332 pence per KWH
Gas prices
Typical standard gas price = 3.917 pence per KWH
Discounted gas price = 3.319 pence per KWH
Please note: You will have other charges on top of these rates. Either a standing charge, or a higher unit rate for so many KWH.
You will find your actual KWH prices on your energy bill. Prices do vary between regions. These prices were correct in one of the regions at the time of this post!
§
Tariff
There are hundreds of different tariffs. But if you have not switched your supplier within the last 12 months, you are probably on your suppliers Standard energy tariff. Some suppliers call this General Domestic. Standard tariffs are the suppliers default tariffs, and are the most expensive!
You will find this information on your energy bills.
§
Getting quotes for discounted energy deals
Enter your postcode on the right. This opens a comparison site at the page which covers your postcode area.
You will see this:
Gas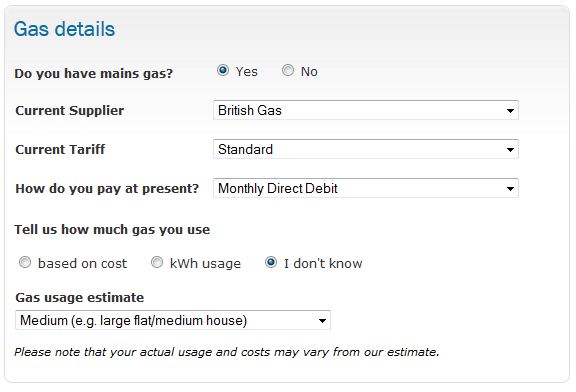 From the drop downs – select your current supplier – current tariff – how you pay. Then you have a few options to enter your current consumption.
If you know your KWH usage, you will get a more accurate comparison.
Electricity
Again, select the dropdowns which apply to you. economy 7 is present when you have 2 electricity meter readings. You would normally have this if you use storage heaters!
Additional information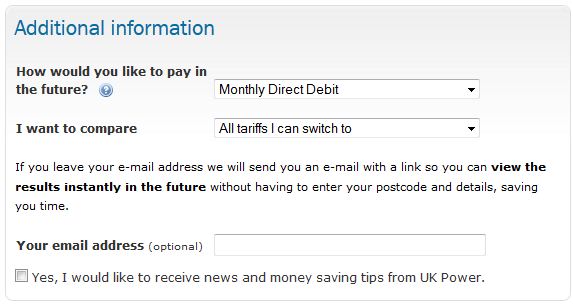 You don't need to select anything on the additional information
Then click the view results button
You will then be presented with all the results in this format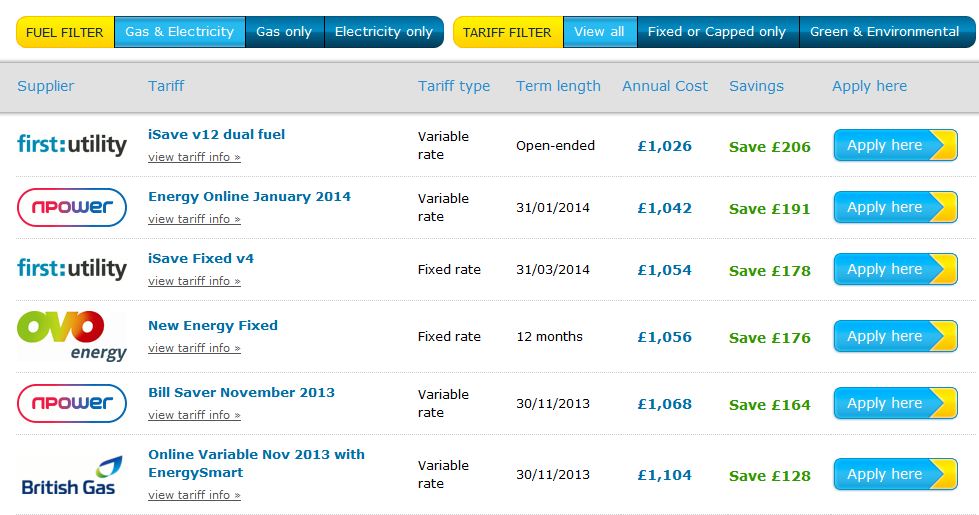 From here, you simply choose the tariff which suits you best. I would advise you to go for a fixed price when increases are imminent.
Update 11:10 AM 16th November 2012
Most of the suppliers have now increased their prices, so you don't need to go for a fixed price deal. But if you are going to switch your supplier, please check the important information on this page after you have got your quotes HOW SAFE IS MY ENERGY TARIFF?
Once you have selected your new tariff, just follow the prompts for your details.
Your new supplier will handle the switching process. It will take about 6 weeks to be finalised!