Online shopping for cheaper energy deals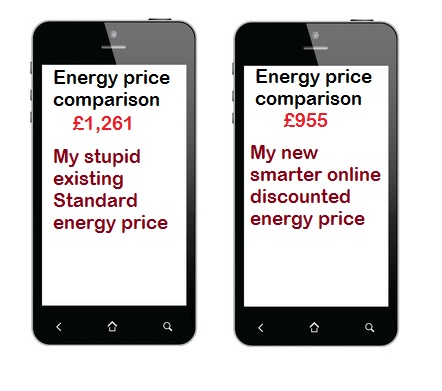 Have you ever shopped online for anything to get a better deal?
Most of us have!
I remember the days when I would go to an insurance broker every year to get quotes for my car insurance. Now I don't have to bother with that. I just simply go online to one of the comparison sites.
Okay, it's a bit of hassle changing your insurer. You normally have to send them proof of your no claim bonus and, a copy of your driving licence. I don't have any real issues with that when it means I'll get a better price from someone else. I normally take a photograph of my documents then email them!
Anyway, moving onto getting cheaper deals for your gas and, electricity.
Why is it cheaper online?
It's quite simple, the energy suppliers want your business! If they didn't give cheaper online deals, very few suppliers would get any new customers. The online market is very competitive. Many of the energy suppliers will offer 20% or even more of a discount to win your business!
Why don't the energy suppliers just give us the cheaper prices?
If they did that, they would have nothing left to compete online with. Like I said "The online market is very competitive" In other words, they need to keep the Standard Energy prices at a higher level to give them room to discount for online shoppers!
Is it not just a load of hassle switching energy supplier?
In most cases it's very straight forward to switch your energy supplier! To get started, all you need to know is how much energy you use, or how much you spend on your gas and electricity.
Okay, I want to switch to a cheaper online energy deal. What do I do next?
Visit a comparison site and enter your postcode. You will find a list of OFGEM accredited comparison sites on this page. Once you have entered your postcodes, you will be asked some questions about your current supplier and the tariff you are on. (Most people are on Standard Energy if you haven't switched supplier recently) You will then have to work out how much you use, or how much you spend. Your new supplier will take care of the actual switching process. The only thing you will be asked to do is supply a final meter reading on the day of the actual switch!
The prices shown in the image on this page were correct at the time of press. They were calculated for a property in the Aberdeen area. The prices shown are based on average energy consumption of 13500 KWH for gas and, 3200 KWH for electricity. The information entered on the comparison site was British/Scottish Gas for gas on Standard Energy and SSE/Hydro Electric on Standard Energy. These figures may not apply to your region or your actual consumption. The prices shown, do not apply to pre-pay meters. You should get quotes based on your own details.