Discounted energy deals
Getting 20% discount off your energy prices has never been easier.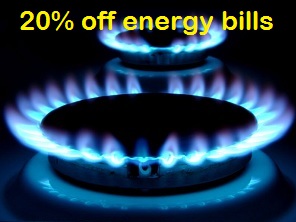 Thank goodness we are all capable of making our own decisions! Otherwise, far too many of us would be stuck on our usual energy suppliers Standard Tariff.
Now that we are all a bit more savvy about energy prices, we can start taking something back from the energy giants.
Because some consumers prefer to shop around for their best energy deals, many of the suppliers offer discounts up to 20%.
So what about the consumers who don't shop around for cheaper deals?
It's quite simple, they won't be offered any discounted rates. If you don't want to look for a cheaper online tariff, then your supplier will be more than happy to continue charging you the higher Standard rate!
Where to get quotes for cheaper energy deals
There are hundreds of energy comparison sites. But it's quite easy to narrow it down. Ofgem, are the governing body over the energy suppliers. They also accredit some of the comparison sites. Ofgem accredited comparison sites have to follow a strict code of conduct. The most important being – they must show you the cheapest energy deals!